Dixie Shower Doors has been manufacturing, selling & installing shower doors for over 44 years. Let us make one for you!
Why Dixie Shower Doors?
Dixie Shower Doors has been a trusted name in Central Florida since 1972. Our facility in Altamonte Springs has been the source for creating thousands of shower enclosures for general contractors, tile professionals and direct to homeowners. Our professional and personal approach has earned us an outstanding reputation in our community, as well as an A+ accreditation with the Better Business Bureau. Please browse our site and view the limitless possibilities. We are one of Orlando's oldest and reliable sources for ALL types of shower enclosures. In addition, we professionally install what we sell. When you're ready for a complimentary in-home estimate, please contact us by phone or our contact page. Remember, "IF YOU CAN BUILD IT, WE CAN ENCLOSE IT".   Learn more

Our Enclosures
Here at Dixie Shower Doors, we offer three unique types of enclosures when it comes to the design of your bathroom showers. Each offers some different aesthetic qualities as well as different forms of functionality depending on what you want to prioritize for your bathroom shower. Here's some more information on these three types of enclosures:
Framed shower enclosures feature metal frames around the edges of each sheet of glass including the door itself. No glass edge is left exposed, and the door is fastened either with a pivot or piano hinges, and the overall aesthetic of this type of enclosure has a boxy appearance. There are many materials from which the frame can be made, some of which may give the frame color through painted or polished material. Some examples include polished brass, bronze, or chrome. Steel and aluminum can also be used as materials. These showers use thicker glass and thus will require a professional installation to be installed correctly, but a framed shower is highly efficient. The frames act as a barrier, keeping water from leaking out. That said, the design elements are more limited in what you can do with them, such as requiring an outward-opening door.
Semi-frameless enclosures are the most common form of shower enclosure to find in the typical home or apartment. As a combination of both framed and frameless enclosures, they feature glass with some framed edges but also some exposed edges. There are typically fixed panes that help to carry the leak-protection qualities of framed enclosures throughout the enclosure while the door is often frameless. This gives the shower a sleeker appearance and offers more flexibility in the design. At the same time, these are also both durable and inexpensive, which is why they're so commonly used. A professional installation is still heavily recommended.
Naturally, a frameless enclosure is one that has no frame at all around the sheets of glass. To give the enclosure stability, the glass used is typically quite thick—anywhere from ⅜ to ½ inches thick. These kinds of shower enclosures are seen as luxurious thanks to their sleek, modern look, though their expense isn't that much higher than other options. They also offer a few other key benefits that make them a great candidate for your bathroom if you're building or renovating the space. These include easier maintenance and cleaning, making your bathroom look bigger because of the flexible design options, and allows for natural light to travel into your shower space.
Treatment Options for Your Glass Shower Doors
One option many families are considering is treating their shower doors to keep them cleaner with less effort. A glass shower requires that users dry off the glass after use. If the water stays on the glass, it can leave watermarks and possibly attract mold, so maintenance is important. A glass treatment option will make this process easier, and users can simply brush the water off with a microfiber towel. Here at Dixie Shower Doors, we offer two glass treatment options: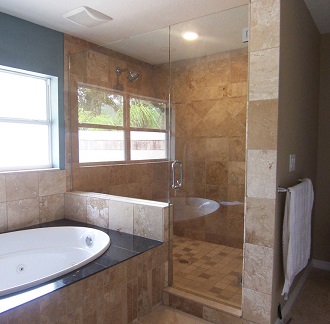 Enduroshield features a long-lasting barrier for glass, ceramic tiles, porcelain tiles, grout, stainless steel, and chrome surfaces. It's a simple product that is sprayed onto the surface and then polished into it. The quality that makes Enduroshield unique is that the barrier permanently bonds to the surface rather than sitting on the surface. It also minimizes the upkeep needed to keep the product bonded to your surface. The only things that can remove Enduroshield are abrasive substances like strong acids or alkalis. As a result, users save time when cleaning their bathrooms as water beads up on the coating rather than soaking in and can be easily wiped down. With a professional application, you can receive a 5-to 10-year warranty depending on the surface that it's applied to, but we also offer a do-it-yourself application with a 3-year warranty regardless of the surface.
Diamon-Fusion treatments allow for easier cleaning of hard surfaces that prevent water from sticking to them. Despite glass's smooth exterior, there are actually microscopic ridges that create an ever-so-slightly uneven surface that can trap water. The same is true for other types of surfaces as well. Diamond-Fusion not only creates a protective barrier over hard surfaces but also works to fill in those microscopic ridges and creates a perfectly smooth surface. The benefit of this is that you won't need to clean the glass as frequently. This is because water will more easily drip down, and so Diamond-Fusion can act as a form of self-cleaning. With this treatment, cleaning time can be reduced by as much as 90%, and the product also comes with a 15-year warranty for commercial applications.
Reviews from Satisfied Customers
Sometimes the best way to gauge whether or not a company is right for you is through how other people have received their services or products. If you're looking for high-quality shower door enclosures for your bathroom, then these happy customers may convince you that we're the right choice.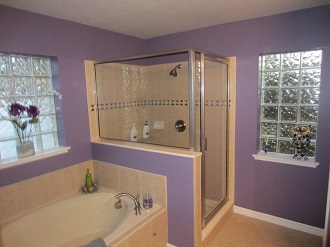 Contact Us for More Information
Are you in the process of building a new shower or bathroom? Are you renovating your existing shower or bathroom? We at Dixie Shower Doors in Winter Park, FL, want to help every local homeowner with their glass shower installation. Our specialty is glass shower doors, which we have been manufacturing for over 44 years. And we're excited to make one for you to help you express yourself Dixie style. When working with us, our experts will work to ensure the installation process is as quick and seamless as possible, all while providing for you a quality shower that will last for years to come. Do you have questions for us? Are you interested in what we can offer? Contact us today to learn more about our installation process or to get a free in-home estimate.